Cheerleaders play a big part in sports, both amateur and pro. We all know about the famous and beautiful Dallas Cowboys cheerleaders and their tradition. Most NBA teams feature their cheerleadrs, both on the sidelines during the game and at halftime. They give them clever names, such as Chicago's "Luvabulls."

But to me, the most underrated mascots in sports are the NHL ice girls. Not only do they actually put in some hard work making sure all that loose ice is scooped up, they look fantastic doing it.
Unfortunately, all of their work/entertainment isn't usually televised, because it's during timeouts or intermissions. So, to show love to some of the greatest cheerleaders in sports, here are some of the hottest NHL ice girls to ever grace the ice.
New York Islanders - They might not have a very good team, but they have one heck of an ice crew.
Chicago Blackhawks - Not only is the team really good, but the ice crew shows you why Chicago is a hockey town.
Los Angeles Kings - Did you expect less from a team in Los Angeles?
Anaheim Ducks - The Ducks are one of the best teams in the NHL, so it's no coincidence that their ice girls are just as good.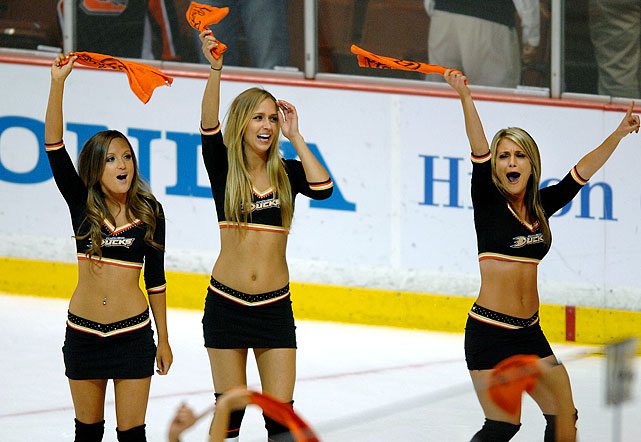 Phildelphia Flyers - Philly ice girls are working girls, they gracefully give the ice a good shoveling.
Boston Bruins - The Bruins are in first place and their ice girls are top-notch. It's a win-win situation if you're a Bruins fan.
Honorable Mention: Atlanta Thrashers (Retired) - It wasn't a good idea to put a hockey team in Atlanta apparently because they no longer exist, but we sure do miss these ladies.
Follow me on twitter @windycityiggy